Methodology
Topten.eu presents the most energy efficient luminaires for offices and other indoor use. The listed luminaires are certified by MINERGIE®, a Swiss label most famously known for building standards. Each brand is represented with their most energy efficient model per category. The complete list of Minergie-certified luminaires can be found under www.toplicht.ch (website available in German).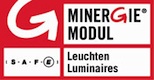 Technical Criteria
The standards for Minergie-certified luminaires apply (detailed description in German here). The most important criteria are:
Typology
Only luminaires with LED light sources are accepted
Efficiency
The efficiency requirement of office luminaires is based on the following Minergie formula: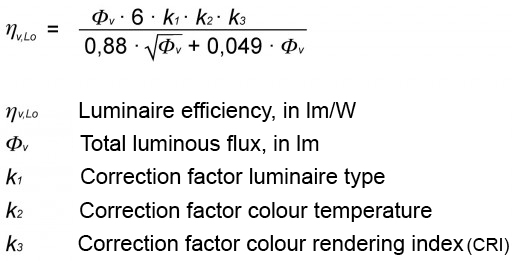 The minimum efficiciency requirements for the different luminaire types are listed in the Annex of the Minergie Label Regulation.
In the figure below is a sample efficiency curve plotted for one luminaire type: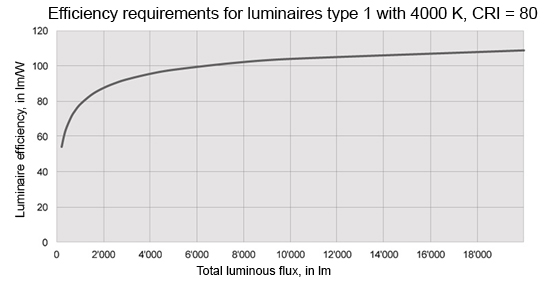 Power in standby mode
Manual control (on/off), non-dimmable: 0 watts
Dimmable ballasts: max. 0.5 watts
Luminaires with presence/daylight control: max. 0.5 watts
(Based on the Energy Star luminaires specification v2.1 2017)
Glare
Unified Glare Rating UGR in standard room according to MINERGIE: max. 25
Additional criteria

Color rendering index CRI: min. 80
Lamp life: min. 30'000 hours
Test laboratory
The test laboratory must be accredited by the responsible public authority

Data sources
Product information from Minergie / www.toplicht.ch.

Order of presentation
Models are ranked according to their luminaire efficiency factor in lumens per watt (lm/W); the higher the value the better. The order of presentation can be changed by clicking the tables' headings.
Glossary
Brand, Model
Brand with link to manufacturer website, name of model
Power
Measured value for power in watts (W)
Lamp category
Only luminaires with LED light sources are accepted
Options for lighting control
Dimming: o

ption available yes or no

Presence / daylight sensor:

option available yes or no
Downward flux
Percentage of downward flux (%)
direct irradiation: more than 90% downward flux
mixed direct/indirect irradiation: between 10 and 90% downward flux
indirect irradiation: less than 10% downward flux
Luminaire efficiency factor
Ratio of the measured luminous flux of the luminaire (lumens) to the power (watts). The higher the value the better. The luminaire efficiency factor (lumens per watt, lm/W) corresponds to the product of the luminous efficacy of the light source (lm/W), the efficiency of the ballast (%) and the light output ratio of the luminaire (%).
Infoplus
Publications
Standards and labels
07/2019 Gross, Bush