Methodology
Topten.eu (Best products of Europe) presents the most sustainable computer monitors available in Europe.
The test results of TCO in Sweden serve as the basis for the selection criteria. Thanks to these criteria, the chosen models meet strict requirement on energy efficiency, ergonomics, radiation and environmental impact.
Technical criteria
In order to be displayed on www.topten.eu, computer monitors must:
The products have been awarded the current TCO label 8.0 Displays.
The energy values are measured by TCO in the context of label issuance.
| | |
| --- | --- |
| Screen size (diagonal) | Max. efficiency index (TEC/max TEC) |
| d ≤ 22 inches | 0.9 |
| d > 22 | 0.8 |
This means that screens up to and including 22-inch diagonal must be 10 percent more efficient than Energy Star (which corresponds to an efficiency index of 0.9 or lower).
For larger models over 22 inches, the requirements are 20 percent stricter (i.e. an efficiency index of 0.8 or lower).
The TEC value is determined by the information from the TCO measurement and the energy efficiency computation method of EnergyStar. (EnergyStar specification)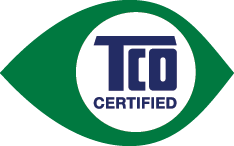 Display sequence
According to the screen diagonal
Terminology
The products are ranked according to the size of the screen.
Make /model
Make and model name of the base model. The asterisk (*) stands for possible characters from A-Z and 0-9.
Variants
Model name of variations of the base model. The "x" stands for possible characters from A-Z and 0-9.
Diagonal
Visible image diagonal in inches.
Resolution
Maximum resolution in number of pixels (horizontal x vertical).
TCO Information
The details on the label, the certificate number and the expiry date of the certificate.
TEC (kWh/year) / energy efficiency index
The TEC value is determined with the measured values of the TCO. The calculation is based on 3066 hours in on-mode and 5694 hours in sleep-mode. This means that during 35% of the year the screen is on on-mode, the rest of the time in sleep mode.
The ratio of the effective consumption to the maximum allowed value according to Energy Star is the efficiency index.
Infoplus
Standards and Labels
Publications
Links:
The European council for an energy efficient economy eceee provides a status overview on all products in the Ecodesign & Energy Labelling process
Coolproducts informs about the EU ecodesign process on office equipment and other products. It is a coalition of NGOs' campaign for a stronger, fast Ecodesign Directive to save the climate and money.
Producers and retailers are kindly asked to contact info(at)topten.info to inform about more products which meet the topten selection criteria
07/2020 Bush