ProCold - Sustainable Professional Refrigerators
Tools and information for buyers and suppliers
ProCold is an EU-project aiming to improve energy efficiency in plug-in cabinets and speed up the switch to climate-friendly refrigerants. There is an energy saving potential of around 50%.
The project provides help for manufacturers, suppliers, food and beverage companies, retailers, gastronomy, hotels, public authorities, media and other stakeholders.
Objectives of the project:
Showcasing best products
Supporting green procurement
Helping to implement effective policies
Final reports:
Best products lists
Topten.eu shows Europe's best-in-class professional refrigerators
National best products lists
How to submit products for Topten
Submit the product information to Maike Hepp, gewerbe (at) topten.ch, 0041 44 545 30 99
Check energy efficiency criteria (download excel)
Overview of Topten selection criteria and accepted testing standards (download PDF)
Rebates in Switzerland
For Topten products 25% of the purchase price are reimbursed

The appliance must be located in Switzerland

More infos under www.topten.eu/rebates
Rebates in Austria
For Topten products up to 30% of the purchase price are reimbursed
The invoice must not be older than 6 months
The rebate Programme is running from 2.1.2017 until 31.12.2021
More infos under this link
Innovative and efficient - award for Europe's best products
In five categories the most energy efficient professional and commercial cold appliances were awarded "ProCold winner 2017" on March 7th during EuroShop 2017 and will be further promoted at Host 2017.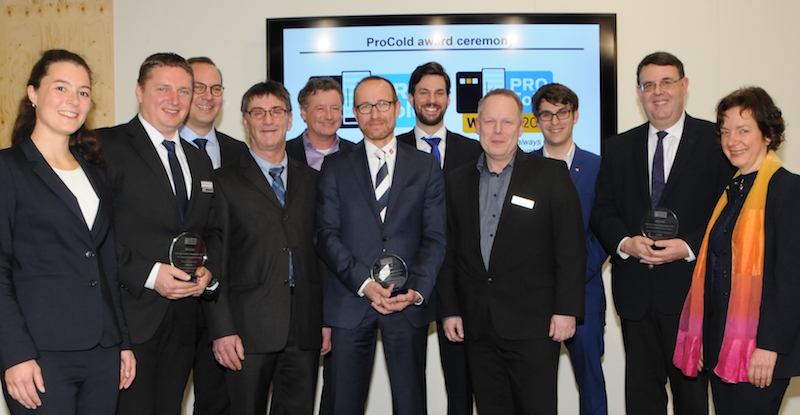 Categories
Winners

Vertical chilled storage cabinets
Beverage coolers
Small ice cream freezers
Vertical supermarket refrigerator cabinets
Refrigerated glass fronted vending machines
After many submissions and official laboratory tests the 5 winners can be found here. More infos under this link.
CO2 Calculator
This excel tool is easy to use and calculates CO2 savings as well as energy and cost savings of Topten models compared to other products (download Calculation Tool for display products, download Calculation Tool for storage products).
EU Regulations on Energy Labels, Ecodesign and F-Gas



Since 1 July 2016, the EU energy label for professional refrigerated storage cabinets is mandatory.
An EU energy label for commercial refrigerated display cabinets has been adopted. It will become mandatory on 1st March 2021.
Minibars and wine coolers intended for commercial use have been included in the scope of the revised EU energy label for household refrigerating appliances (starting 01.03.2021).
Fluorinated refrigerants such as R404A and R134a will be banned for plug-in refrigeration equipment in 2020/2022. This is laid down in the so-called F-Gas Regulation.

Read more on these EU regulations here.
Energy efficiency in the professional cold sector – the EU-project ProCold was pushing the most efficient products for almost three years (2016-2018)
ProCold has proven that manufacturers are willing and able to produce very efficient cold products and that users are in favour of using these products because of their benefits they bring. Thanks to the effort of the project, the topics of energy savings and environmental protection were promoted and established in the market. Read the complete final press release here.

Procurement Guidelines



Topten and ProCold offer procurement guidelines for frontrunner public procurers to help them easily find green products. The criteria can be inserted directly into tendering documents and are available for download in six languages.

Read more here.
Publications
ProCold Brochures:




ProCold Factsheet:

Smart Controls for Beverage Coolers Reduce Energy Costs by 15-45%

ATMOsphere Europe 2016:

Eva Geilinger: Marketing and green procurement tools for commercial plug-in refrigerators: The EU Horizon 2020 project 'ProCold'. Link to presentation or PDF download.




EEDAL 2015:

Eva Geilinger and Eric Bush: Commercial and Professional Refrigeration Products: Promoting Energy Efficiency with Legislation, Empowered Stakeholders and Rebates. Paper and presentation.
Project partners

The «ProCold» project has received funding from the European Union's Horizon 2020 research and innovation programme under grant agreement No 649293.
Contact
EU
Maike Hepp
pro-cold (at) topten.eu
+41 44 545 30 99
Topten.eu (Zurich)


Franz Zach
franz.zach (at)
energyagency.at
+43 1 586 15 24 120
AEA (Vienna)


Juraj Krivošík
seven (at) svn.cz
+420 224 252 115
SEVEn (Prague)


Sophie Attali
sattali (at) guidetopten.fr
+33 1 83 94 82 09
Guide Topten (Paris)


Rasmus Priess
r.priess (at) oeko.de
+49 761 45 295 264
Öko-Institut e.V. (Freiburg)


Andrea Roscetti
andrea.roscetti (at) polimi.it
+39 02 23 993 893
Politecnico di Milano (Milano)


Laura Carvalho
topten (at) quercus.pt
+35 1 213 462 210
Quercus (Lisboa)


Jesper Peterson
jesper.peterson (at)
naturskyddsforeningen.se
+46 702 401 722
SSNC (Göteborg)


Maike Hepp
gewerbe (at) topten.ch
+41 44 545 30 99
Topten.ch (Zurich)
Disclaimer

The sole responsibility for the content of the «ProCold» project lies with the authors. It does not necessarily reflect the opinion of the European Union. Neither the EASME nor the European Commission and the project partners are responsible for any use that may be made of the information contained therein.