August 2017
August 1st 2017: The New Energy Labelling Regulation has officially entered into force. The regulation was published on July 28th in the EU Official journal. The transition to the new label will be slow and may cause confusion for consumers during the overlap period over several years. The product database, providing an overview of products in the EU, is expected in 2019. Labels will not include the "+" anymore and return to a A to G scale with a rescale trigger mechanism guanranteeing the effectiveness of the label.
New Energy Label Regulation from the Official Journal of the European Union, July 2017: Framework Regulation for Energy Labelling.
Briefing by ECOS, June 13th 2017: The revised Energy Labelling Regulation.
Briefing by ECOS, June 13th 2017: ECOS views on the final compromise for the revision of Energy Labelling rules for energy-using products
March 2017
March 21st: the European Parliament and Council have agreed on new framework regulation for the Energy Label: Labels will be better understandable thanks to a clear A-G scale, and a product database will provide a better overview on the market. The regulation will be published in the OJ and enter into force in September 2017.
Press release by the Commission, March 21st: Commission welcomes agreement on clearer energy efficeincy labelling rules to empower consumers
Press release by Coolproducts, March 22nd: New energy label must be introduced quickly to slash energy use and household bills

Article by EurActiv, March 23rd: New energy labels on household appliances could save hundreds on energy bills
December 2016
In its 'winter package' published on November 30, the European Commission proposes a binding energy efficiency improvement of 30% compared to 1990, which would replace the current non-binding target of 27%. The Commission presentation on November 30 also included the long-awaited Ecodesign work plan 2016 - 2017.
'Commission proposes new rules for consumer centered clean energy transition': Press realease by the EC, 30 November
'Commission defends new energy rules and climate ambition': article by Euractiv, 30 November
'EU champions 'people power' but the devil lies in the details': analysis by Euractiv, December 1st
'Winter package's 30% binding target absolute minimum, welcomes support for Efficiency First principle': opinion by eceee, November 30
Blogs by Coolproducts, ECOS and Greenpeace
November 2016
The Commission has updated its infographics on Ecodesign and Energy Labelling: the energy efficiency measures save each household € 490 on energy bills per year, help the EU considerably to meet its energy saving and emission reduction goals for 2020, create annual revenues of € 55 billion and reduce the need to import energy.
Despite all these evidence-based benefits, fears over bad press have guided the discussions on the Ecodesign Work Plan 3 (2015 - 2017): the Commission has deleted hair dryers, hot drinks vending machines and toasters from the list of potential future Ecodesign measures.
EU drops plans to make toasters more energy efficient over 'intrusion' fears: The Guardian, 8 November 2016
How UKIP's dubious toaster traumas will lead to higher energy bills ans emissions for everyone. Andrew Warren, eceee.
Populist attacks derailing EU energy efficiency plans. Jack Hunter, Coolproducts, 25 October 2016.
September 2016
The US-based Natural Resource Defence Council (NRDC) has tested several TV models by altering conditions and settings of the standard test procedure that is used for the energy declaration. The results show that models of the three best selling US brands can double their energy consumption when their settings are changed or a video different from the standard test video is played. It seems that the 'real world' energy consumption by these TVs is higher than declared, and consumers are faced with higher energy bills than expected.
European NGOs have launched similar tests with EU products. Tests with TVs, refrigerators and dishwashers will reveal if test standards reflect real world usage or if products may consume more when exposed to conditiones different from test standard conditions.
More information:
TVs may be consuming $1.2 billion more energy than expected: Blog by the NRDC, 21. September 2016
Is your TV using twice as much power as advertised? Coolproducts Blog, 21. September 2016
Announcing an investigation into the home appliance industry on the anniversary of Dieselgate. Coolproducts Blog, 18. September 2016
August 2016
Topten publishes report on its market surveillance activities:
The overall goal of this activity is to contribute to the efforts of market surveillance – to ensure that the information provided on the energy label is correct, and that the retailers provide the energy labels and the product fiche to consumers in the prescribed form. These activities were performed under the Horizon 2020 project Topten ACT.

The activities within this task have been performed by the Topten Partners in the following three ways:
All 15 National Partners and the Topten.eu EU-level portal have focused attention on the EEI calculation. Each partner has calculated ten products from the main category of products which they are publishing online. The individual products for the Energy Efficiency Index (EEI) calculation have been selected randomly, but ensuring a variety of brands represented. In total, the EEI calculations have been made for some 730 products in six key product categories in total. It can be confirmed that in the majority of cases of the EEI calculations have confirmed the energy efficiency class declarations provided by the Manufacturer on the energy label, with only some modifcations occurred.
Selected partners have also monitored the proper presence of energy label display in main e-shops. Shops were also selected randomly, but selecting the ones with significant Market Share – therefore used by large number of Customers in selecting their new home appliances. In total, 29 shops have been reviewed, and 4 768 products have been monitored, mainly within the white goods, TVs and lamps. Eshop organisers where inacurate label disply has been found have also received a retailer guide for the proper label display.
In addition, project organisers have also monitored the publicly available information on product testing for energy efficiency compliance verification.
December 2015: Topten Argentina launched!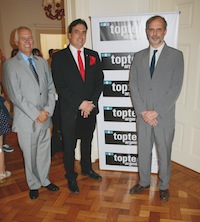 Vida Silvestre has launched Topten Argentina. After Chile, there are now two Topten teams in latin America selecting and showing the most efficient products.
Topten Argentina has been officially launched in the Swiss embassy in Bueno Aires on December 16th 2015: Daniel Redondo, Energy Planning Secretary from the Energy and Mining Ministry of Argentina; Hans Peter Mock, Ambassador of Switzerland in Argentina and Carlos Tanides, coordinator for the Energy Program in Vida Silvestre.
Find here the press release by Vida Silvestre about the Topten launch.
December 2015: UN climate change conference COP21
From November 30th to December 11th governments are discussing a new agreement on climate change in Paris. An ambitious global agreement is a need to slow down climate change.
October 2015: dubious car models suppressed from Topten
Following the news about 'VW-gate' Topten suppresses dubious car models from its lists: all models from VW, Audi, Seat and Skoda with Euro5 Diesel motor are deleted.
More information in a telegraph article from October 2nd.
September 2015: Ecodesign requirements for space and water heaters
September 2015: stage 3 directional lighting will enter into force

The European Commission has published its market assessment of directional lamps, showing that efficient LED spot lamps are available, affordable, equivalent in terms of functionality and compatible with equipment used between the mains and the lamp. Consequently, the requirements for the implementation of stage 3 of Ecodesign regulation No. 1194/2012 are met. Stage 3 will leave only efficient spot lamps on the market after September 2016 - basically LED spots.
July 2015
On 15th July 2015 the European Commission has published its proposal for the revised Energy Labelling Directive. Topten welcomes the main changes:
back to the original A to G scale
regular rescalings (every ten years), to have the top two classes empty
a product database, improving transparency and supporting market surveillance.
More information:
May 2015
The Intelligent Energy Europe (IEE) project 'Yearly Appliance Energy Cost Indication' (YAECI) has made the running costs of products transparent to consumers at the point of sale, together with retailers in 9 EU countires. As a result, retailers saw an increase in sale of energy efficient products (A++, A+++). Main conclusions from the YAECI project include the need for a mandatory product registration and a respective database. More information:
April 2015
The EU postpones the ban of inefficient halogen lamps, which has been announced since six years, and misses energy savings of around 33 TWh in ten years. On 17th April Member States agreed to the Commission proposal to postpone stage 6 of the lamps Ecodesign regulations, banning classes C and less efficient, to 2018, despite the fact that efficient LED lamps are better and less expensive than expected. Inefficient lamps of classes C, D and E now remain on the market until September 2018. LED lamps are 80% more energy efficient than those least efficient lamps, and each LED lamp saves consumers EUR 60 over its lifetime of 15 years compared to a standard halogen lamp. More information:
February 2015
Horizon 2020 is a large research and innovation programme by the European Union. Horizon 2020 will fund two Topten projects from 2015 - 2018:
Topten ACT will select and present the most energy efficient products on Topten Websites in 16 countries in Europe, enabling consumers to act by making energy saving purchasing choices.
Project partners are: ADEME (France), AEA (Austria), BBL (Belgium), Bush Energie (Switzerland), Eliante (Italy), FEWE (Poland), Guide Topten (France), Icemenerg (Romania), LNVF (Lithuania), Norges Naturvernforbundet (Norway), Öko-Institut (Germany), Oekozenter (Luxembourg), Quercus (Portugal), SEVEn (Czech Republic), SSNC (Sweden), EST (UK) and WWF Spain.
ProCold aims at improving energy efficiency of professional refrigerating and freezing appliances, in collaboration with various stakeholders.
March 2014
The updated Air conditioner lists lists on Topten.eu show that the efficiency of these products has improved impressively. The new Energy Label with classes up to A+++ (regulation No 626/2011) has been compulsory since January 2013. Since then a seasonal efficiency is applied for air conditioners - no longer discouraging efficient part load running. The Topten lists shows some innovations by March 2014:
Eight models reach the top class for both cooling and heating function: A+++/A+++ .
The new models reach high efficiency values: benchmarks are SEER = 10.1, SCOP = 5.9.
Climate-friendly refrigerants start entering the market: three models use R-32 instead or R410A, with a Global Warming Potential (GWP) of 550 instead of 1975. (Refrigerant and GWP are visible in the detail view of the Topten products.)
Check out our new air conditioner lists.
October 2013
The European Commission has been working hard: eight new Ecodesign and Labelling regulations have been published in the last few months:
More information: www.coolproducts.eu
September 2013
Topten presentations at the EEDAL conference in Coimbra, September 2013:
March 2013
ATLETE II evaluates energy labeling and ecodesign of washing machines. For the first time in the EU, models will be tested under the new Energy Labeling regulations. The tests of 50 models have now been taken up.
ATLETE II is supported by the European Commission's Intelligent Energy (IEE) programme.

March 2013
On February 27th the Regulatory Committee has approved the proposed Ecodesign regulation for vacuum cleaners with a few changes. The most important requirement is the power cap, limiting the power of future vacuum cleaners to 1600W in tier 1 (after Sep 2014) and to 900W in tier 2 (Sep 2017). Apart from that, the regulation also defines minimum requirements for the performance (dust pickup) and the annual energy consumption, in tier 2 additionally on dust re-emission, sound power level and durability.
The Ecodesign regulation is now undergoing a 3-months scrutiny by the European Parliament and the Council. The Energy Labelling regulation for vacuum cleaners is expected to be adopted by the Commission before the end of this period.
February 2013
On February 18 the Commission has adopted the energy labelling regulations for space and combi heaters and for water heaters - after five years of discussions. The energy labels will apply starting in 2015. One label applies for all technologies of boilers - a key aspect for a comprehensive energy label.
In March 2013 the ecodesign regulations for space and water heaters will be voted on. Combined with the energy label, these regulations are expected to lead to annual energy savings of 1900 petajoules, equivalent to about 110 million tonnes of CO2 emissions by 2020.
Press release by EHPA/EPEE (Feb 22)
January 2013
In mid-December 2012 the Regulation No 1194/2012 on Ecodesign requirements for directional lamps and LED lamps has been adopted. Next to energy efficiency requirements functionality requirements such as minimum colour rendering (Ra) will ensure that consumers switching to LED lamps are not disappointed by the lamps' quality. Minimum requirements on energy efficiency, lamp survival factor, lumen maintenance and number of switching cycles before failure are also introduced.
First minimum requirements for directional lamps will be applied in september 2013, phasing out E-class incandescent reflector lamps and the least efficient halogen spots, as well as B-class high intensity discharge lamps, LEDs and CFLs.
December 2012
In late September 2012 already the new regulation on Energy Labeling of lamps and luminaires No. 874/2012 has been adopted.It will apply from September 2013: after then, also spot lamps and luminaires will be labelled. The new label features classes up to A++.
Energy Labelling regulation on electrical lamps and luminaires No 874/2012 from 12 July 2012.
October 2012
The Ecodesign regulation for tumble driers has been adopted by the European Commission on October 3rd. It will ban the worst performing driers starting in November 2013.
Ecodesign regulation on tumble driersNo. 932/2012 from 3rd October 2012
Energy Labelling regulation on driers, adopted in March 2012
Corrigendum to the labelling regulaiton on driers, March 2012
August 2012
Analysis of comprehensive sales data from Switzerland shows that appropriate policy instruments are key to drive the technical development of products. In order to regularly and timely re-define energy labels and minimum efficiency requirements in parallel with the product development, the European Union need a systematic market monitoring, based on recent and exhaustive sales data.
Topten Focus on market monitoring
Swiss appliances sales data, 2004 - 2011: analysis and recommendations
Swiss appliances sales development 2004 - 2011, FEA and S.A.F.E., 2012. Data and graphs.
April 2012
The Commission has adopted the new new energy label for driers in early March 2012. The labelling regulation is now scrutinised for two months by the Parliament. Ecodesign measures are also proposed: the draft ecodesign regulation will be voted on by the Regulatory Committee in early May. Topten recommends to define more ambitious minimum requirements than proposed: in tier 2 only heat pump tumble driers should remain on the market.
Topten policy recommendations (pdf)
Topten policy recommendations in short
January 2012
The Commission proposes an energy label and minimum energy performance standards (MEPS) for professional refrigeration cabinets (Decmber 2011). Topten welcomes the measures and looked at the proposal using data available. Findings: both the label class limits and the MEPS should be more stringent. Otherwise the measures will not lead to the expected energy savings.
Topten Focus: Professional refrigeration cabinets: energy label and MEPS
Topten policy recommendations on professional refrigerated cabinets (more details)
December 2011
Three more countries have entered the Topten game! The game 'Be the top energy saver' aims at actively engaging people on energy efficiency by
increasing their knowledge about the variety of energy saving products
checking whether the appliances they use at home and at work are efficient
verifying the offer of energy saving appliances in the shops in their town.
The winner of the game receives an energy efficient prize. By now the game is online on
May 2011
EEDAL conference 2011 in Copenhagen:
The Topten team was present with presentations on the following seven papers:
New energy label for air conditioners:
The European Commission has officially adopted the new energy labal for air conditioners on 4. May 2011. The Parliament and Council now have two months to accept or reject the proposal. Topten welcomes the new label, even though it regrets the low class limits and the privilege of single and double ducts.
Topten Focus on room air conditioners: already A+++ models expected
Topten policy recommendations on room air conditioners
Current EC drafts of the labelling and ecodesign regulations: env-ngo-network.de
March 2011
The Topten game 'Be the top energy saver' aims at actively engaging people on energy efficiency by
increasing their knowledge about the variety of energy saving products
checking whether the appliances they use at home and at work are efficient
verifying the offer of energy saving appliances in the shops in their town.
The winner of the game receives an energy efficient prize. Currently the game is online on
December 2010: new energy labels for household appliances and TVs
On December 20. the recently adopted labelling regulations have been put into force. The new energy labels for refrigerators and freezers, washing machines and dishwashers will coexist with the old labels in 2011 before the new schemes become mandatory in December 2011. The first energy label for TVs will also be mandatory from December 2011.
November 2010: ecodesign regulations for washing machines and dishwashers are adopted:
October / November 2010: Topten China and Topten USA are online:
September 2010: information on the Commission proposal for the new energy label for TVs and the energy label revision for refrigerators and freezers, washing machines and dishwashers:
May 2010: More information on the adoption of the new energy label directive:
Directive on the indication by labelling and standard product information on the consumption of energy and other resources, May 2010
Press release by the Europen Commission, 19. May 2010
November 2009: Previous information on the proposal of the new energy label format: