This page gives an overview of EU regulations concerning plug-in refrigeration equipment such as beverage coolers, ice cream freezers, refrigerated display cabinets, storage refrigerator and freezers, wine coolers, minibars etc.
Storage refrigerators & freezers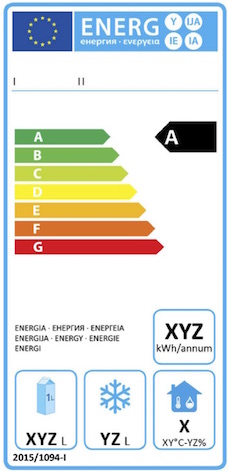 Since 1 July 2016, the EU energy label for professional refrigerated storage cabinets is mandatory. It shows:the energy
efficiency class,
the annual electricity consumption in kWh per year,
the sum of thenet volumes of all chilled compartments functioning at chilled operating temperature,
the sum of the net volumes of all chilled compartments functioning at frozen operating temperature,
and the climate class (3, 4 or 5) together with the associated dry bulb temperature (in °C) and the relative humidity (in %).
Document: Commission delegated regulation (EU) 2015/1094
The Eco Guide from Electrolux gives a good introduction to the new label.
Requirements for energy efficiency of professional refrigerated storage cabinets:
From 1 July 2016: EEI < 115
From 1 January 2018: EEI < 95
From 1 July 2019: EEI < 85
Heavy-duty cabinets must only meet the first stage of the requirements (since 1 July 2016: EEI < 115).
Refrigerator-freezers and blast cabinets are excempt from the label and do not have to meet any requirements for energy efficiency. But product information concerning energy consumption has to be provided in the instruction booklet and on websites since 1 July 2016:
For refrigerator-freezers: the complete set of specifications (see in original document below) except not the EEI but instead the indicative daily energy consumption
For blast cabinets: the full load capacity of the cabinet (kg), the standard temperature cycle (from X°C down to X°C in X minutes), its energy consumption (kWh per kg) and type, name and GWP of the refrigerant
Document: Commission regulation (EU) 2015/1095
Refrigerated display cabinets
An EU energy label for commercial refrigerated display cabinets is being planned. It will likely be adopted in 2017 and become mandatory in 2018. Next step in policy process: Interservice consultation in fall 2016 (earliest).
Minibars and wine coolers
Minibars and wine coolers intended for commercial use could soon be included in the scope of the revised EU energy label for household refrigerating appliances.
Ban of the refrigerants R404A and R134a in 2020/2022 (F-Gas)
According to EU Regulation No. 517/2014 ("F-Gas Regulation") refrigerators and freezers for commercial use (hermetically sealed equipment) that contain HCFs with global warming potential of 2500 or more will be banned from 1 January 2020 and those that contain HFCs with global warm potential of 150 or more will be banned from 1 January 2022.
All models listed on Topten already use the natural refrigerants R290 (propane), R600a (isobutane) or R744 (CO2) with global warming potential (GWP) below 4.
The global warming potential is 1000 - 4000 times lower than that of previous refrigerants like R134a or R404A.
R404A has a GWP of 3990 and will be banned in 2020 and R134a has a GWP of 1430 and will be banned in 2022.
Document: Regulation (EU) 517/2014
Infoplus
Back to the ProCold project main page

ProCold is an EU-project aiming to improve energy efficiency in plug-in refrigeration equipment and speed up the switch to climate-friendly refrigerants. Objectives of the project:
Showcasing best products
Supporting green procurement
Helping to implement effective policies
The «ProCold» project has received funding from the
European Union's Horizon 2020 research and innovation programme
under grant agreement No 649293.

The sole responsibility for the content of the «ProCold» project lies with the authors. It does not necessarily reflect the opinion of the European Union. Neither the EASME nor the European Commission and the project partners are responsible for any use that may be made of the information contained therein.