Through the regularly updated Topten lists potential buyers can see the most energy efficient products in various categories. The ProCold award additionally increased the visibility of top efficient, climate-friendly refrigeration equipment by showcasing the most energy efficient models in the following categories:
Vertical chilled storage cabinets
Beverage coolers
Small ice cream freezers
Vertical supermarket refrigerator cabinets
Refrigerated glass fronted vending machines
Energy efficiency was assessed according to the upcoming European regulations on ecodesign and energy labelling in these categories. Winners were announced during EuroShop 2017 and further promoted at Host 2017.
And the winners are...
The winners were announced on March 7th during EuroShop in Düsseldorf. The winning products are:
| | | |
| --- | --- | --- |
| | Categories | Winners |
| 1. | Vertical chilled storage cabinets | Gram Superior Plus K 72 G |
| 2. | Beverage coolers | Liebherr FKDPv 4503 |
| 3. | Small ice cream freezers | Liebherr GTEP 3302 |
| 4. | Vertical supermarket refrigerator cabinets | Carrier Optimer 0948LG R290 |
| 5. | Refrigerated glass fronted vending machines | Sielaff GF Robimat XM |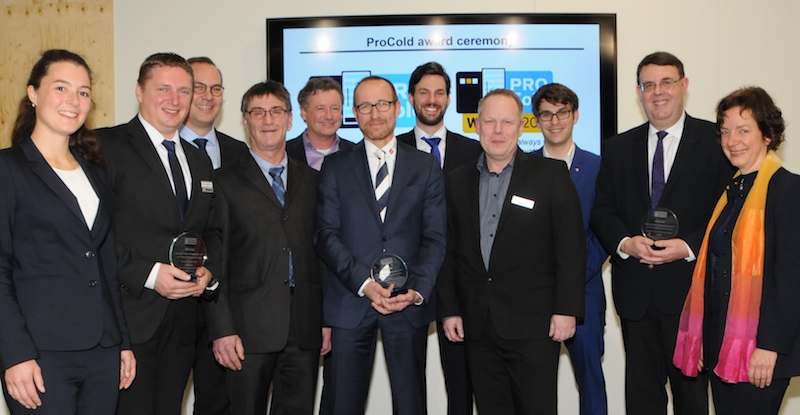 Find out more about the winning products and the award ceremony in the full press release here and in our short report about the Award Ceremony.
Competition rules
Download the competition rules here.
Manufacturers can submit a product to the competition by sending the necessary documents to procoldcompetition (at) oeko.de (submission form, test report, product picture(s), signed final declaration).
Please find the applicable Ecodesign regulation for professional refrigerated storage cabinets here.
Please find the applicable Ecodesign draft regulation for refrigerated commercial display cabinets here. (version from consultation forum meeting on 2 July 2014)
Product Competition Q&A
Several questions for clarification have been raised since the launch of the competition. Answers to these questions clarify and amend the existing competition rules.
Please download the Q&A document here. (published 05. September 2016)
Important Dates
Contact
Rasmus Priess, r.priess (at) oeko.de, +49 761 45 295 264, Öko-Institut e.V. (Freiburg)
ProCold is an EU-project aiming to improve energy efficiency in plug-in refrigeration equipment and speed up the switch to climate-friendly refrigerants. Objectives of the project:
Showcasing best products
Supporting green procurement
Helping to implement effective policies