By maike.hepp
Published 3 years ago
Innovative and efficient – in a public ceremony during EuroShop 2017, ProCold announced the winners of a product competition to find the most energy efficient professional and commercial refrigeration equipment in Europe.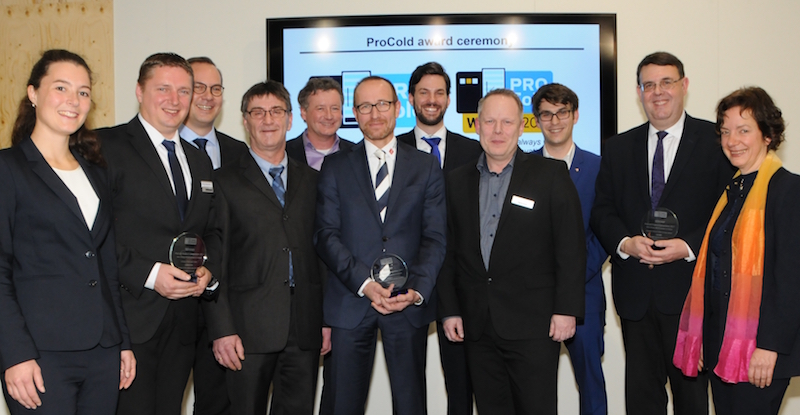 The most efficient appliance in Europe in each of five categories was awarded "ProCold winner 2017":
Vertical chilled storage cabinets
Beverage coolers
Ice-cream freezers
Vertical supermarket refrigerated display cabinets
Refrigerated glass-fronted vending machines
European Project coordinator Therese Kreitz (from the French Environment and Energy Management Agency – ADEME) introduced ProCold, an EU project aiming to improve energy efficiency in plug-in cabinets and speed up the switch to climate-friendly refrigerants. Professional cold products consume a significant amount of energy. The energy consumption related to inefficient cold products can be reduced by 30% to 50% if the most efficient products are used. In some cases, efficient and closed products can save several thousand Euros during their lifetime.
The product competition was organised in order to discover the most efficient technologies and technological advances currently available on the European market. The results of this product competition have shown that manufacturers are willing- and able to produce very efficient cold products. Stamatis Sivitos, the project officer at the Executive Agency for SME (EASME) overseeing the project, says: "This award clearly demonstrates how energy efficiency is always worth pursuing and how it goes hand in hand with product innovation." An overview of the market development and current regulations was then given by project manager Maike Hepp from ProCold. Significant technological improvements have pushed forward the market rapidly over the last year alone. New products handed in for the product competition were up to 10 per cent better in their energy efficiency index than the known best models on the market previously.

All information about the competition can be found on this page.
Find out more about the winning products and the award ceremony in the full press release and in our short report about the Award Ceremony.