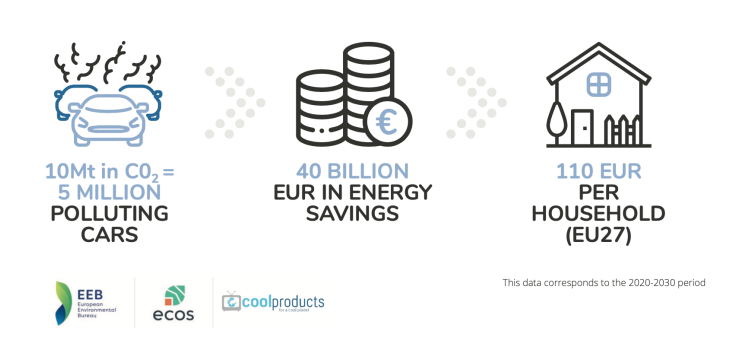 By maike.hepp
Published 2 years ago
The climate goals of the EU rely heavily on the Ecodesign and Energy Labelling policies - indeed they are expected to deliver almost a third of the savings necessary to achieve the EU's 55 % emission reduction target by 2030. However, to date only 25% of the 2016-2019 Ecodesign and Energy Labelling Working Plan has been completed with the new working plan for the years 2020-2024 is currently expected to be at least 2 years delayed. A new study by the EEB (European Environmental Bureau), ECOS and Coolproducts from September 2021 analyzes the cost of those delays for the EU's climate goals and the individual citizens.
The key findings are stark and result in the following consequences of the delays in developing and implementing ecodesign and energy labelling policies:
10 million tonnes (Co2eq) of additional emissions every year by 2030.
Which is equivalent to 5 million cars added to our roads.
Cost citizens 40 billions on their energy bills between 2020 and 2030.
Which means an average European household will now spend an extra 110€ on energy by 2030.
The authors call on the European Commission to allocate adequate resources to the development and implementation of the crucial Ecodesign and Energy Labelling policies in order to make up for the time lost and to harvest the potential additional savings.
The full report can be downloaded here.