Recommendations Professional Storage Refrigerators
Download full policy recommendations from August 2018 (pdf)
Summary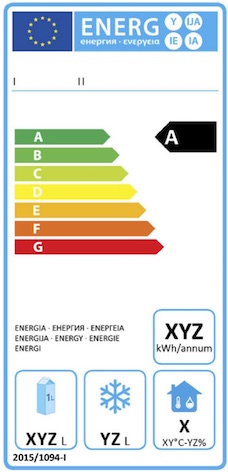 Since 1 July 2016, Ecodesign requirements cover professional refrigerated storage cabinets, blast cabinets, condensing units and process chillers, while the EU energy label is introduced only for professional refrigerated storage cabinets.
Positive aspects of the regulation currently in place:
For the energy label 2016, label classes were tightened several times as a reaction to updated product data. With the final version implemented in July 2016, no product available at the time of the adoption was better than class A, the classes A+ to A+++ were reserved for future products..
Topten welcomes that the 2015 regulation stipulates two labels instead of four until the next revision. This has made the implementation easier and saved work for suppliers and dealers.
Mandatory declaration of energy consumption was included for refrigerator-freezers and blast cabinets, when they are otherwise exemptfrom labelling and Ecodesign requirements. Now it is possible to consider also energy cost, and not only purchase price, when comparing products.
Further work is needed during the upcoming review:
Showcase products using green refrigerants on the EU energy label: In the originally adopted regulation from 2015, this chance was missed. The F‐gas ban in 2022 is coming and there are still barriers to switch to green refrigerants. Further activities to support the switch are needed to avoid any more sales of products using old, climate‐damaging refrigerants. We recommend mandatory display of the refrigerant on the EU energy label to be implemented in the upcoming review. We also suggest the Commission to clearly define "green" refrigerants to prevent harmful artificial substances entering the market.
Topten recommends that minimum requirements should be stricter: min. class D (EEI < 75) from the first tier set in the upcoming revision (starting 2018). We see the first A+ models (less than one year after the label came into effect in 2016) and marked efficiency improvements in all categories with products of level A to C for storage refrigerators and B to D for storage freezers.
Refrigerator‐freezers should be included in the label. The declaration of energy consumption has been mandatory since 1. July 2016 so the market is mature for the next step. A clear instruction for testing of the different compartments is strongly advised to avoid different interpretations.
Static-air storage cabinets should be included in the product information requirements, unless they will be included in the revision of the Lot 13 household Ecodesign regulation together with commercial wine coolers and minibars. Currently there is a gap in product information as it is at the discretion of suppliers and dealers to decide whether a product is intended for household or professional purposes and therefore should or should not be labelled.
Ice‐machines should be included in the scope of the regulation for Ecodesign and labelling. The market for ice‐machines is bigger than for blast cabinets and saving potentials are substantial (e.g. for water between 2 l/kg to 5 l/kg ice, for energy by a factor of 4 even for similar models by the same manufacturer). At least a mandatory declaration for energy and water consumption should be added to the Ecodesign documents to provide data that can be used as basis for the introduction of an energy classification in the next review; as no international test standard currently exists, we recommend that CEN /CENELEC are given a mandate to develop a test procedure.
Include mandatory declaration of energy data for professional refrigerated storage cabinets operating with a remote condensing unit: remote cabinets are currently not covered by Ecodesign and labelling. Buyers of a new unit for their remote system therefore have no reliable information available about the energy consumption and efficiency of the appliance they want to buy.
Remove exemption for heavy‐duty cabinets from minimum requirements in the Ecodesign:"heavy‐duty" cabinets are at the moment exempt from the Ecodesign requirements for energy efficiency after the first trier in 2016 (EEI < 115). This might be because in the initial phase they were measured at climate class 5 (40°C, 40% RH). However, energy consumption and EEI for heavy‐duty cabinets is currently measured at class 4 (30°C, 50% RH) and the Topten database shows that most of the best available technology (BAT) models on the European market are currently heavy duty. Therefore, exempting heavy‐duty cabinets from the minimum requirements is not justified anymore and the regulation must be adapted accordingly.
Mandatory labelling online, in print and at trade fairs without limitation to when price and energy information is also displayed: requirements prescribing the product declaration on the internet were formulated without taking fully into account the fundamental differences between B2C and B2B markets. Making the label mandatory near the presence of price‐related or energy‐related information on advertising materials is not sufficient to guarantee that the energy efficiency class is shown on‐line because many manufacturers do not mention this information in the first place. Trade fairs should also be explicitly listed as "point of sale" as high sales volumes are generated during trade fairs.
ProCold strongly encourages CEN/CENELEC to eliminate grey areas in definitions and test standards (example: placement of m‐packages during the testing for energy consumption now that the area behind pillars is officially part of the net volume) and to proactively communicate about existing and coming EU energy labels and rules. Discussions with manufacturers have shown that further support is needed in interpreting the new EN testing standards (EN 16825:2016). Ideally questions and answers should be officially communicated by the EC or CEN/CENELEC. Topten will help to spread know‐how to manufacturers.
The "FAQ related to Regulation (EU) No 2015/1094 with regard to the energy labelling of professional refrigerated storage cabinets and regulation (EU) No 2015/1095 with regard to ecodesign requirements for professional refrigerated storage cabinets, blast cabinets, condensing units and process chillers" of April 2018 is a good example of such communication. It answers questions about the scope of the label, which test conditions should be applied and the visibility and content of the energy label.
Topten is an EU-project aiming to improve energy efficiency in household and professional appliances and speed up the switch to climate-friendly refrigerants. Objectives of the project:
Showcasing best products
Supporting green procurement
Helping to implement effective policies

Hepp, Bush, August 2018